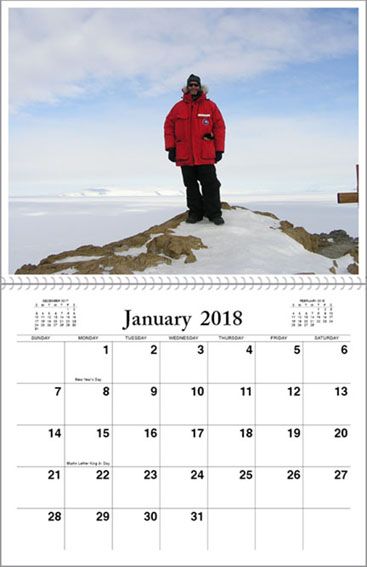 Select 12 of your favorite photos, hand-drawn art pieces, or a combination of both. They can be color or black/white. The price includes the upload of all photos. (If we need to scan photos or artwork, there is an additional fee of $3 per scan.)

Upload each file according to the month with which you want it to print.

If you are bringing in original photos or artwork, please mark each piece according to the month with which you want it to print. To ensure that the writing does not show through, it is a good idea to use post-it notes to label the pieces.

All original photographs and art will be returned.

Horizontal photos and art look best with the horizontal layout of the calendar.

You can also create collages. This works well when you cannot decide on only one picture to show a special occasion or event in your life.

Add special days, like birthdays and anniversaries, to your calendar.

Digital photographs with light backgrounds reproduce well. Low resolution website photos do not print well.

Standard glossy photographs work well if you are bringing in or sending actual photographs.

Copyrighted photos and art require written permission from the photographer or artist.

Printed and assembled in Chatham, New Jersey. Thank you for supporting your local businesses.
---
2-4 Calendars = $18.50 each

5-7 Calendars = $17.50 each

8-10 Calendars = $16.50 each

11-20 Calendars = $16.00 each

More than 20 calendars = call for special pricing

Scan of art = $3.00 each

No charge for photos and art supplied digitally

Special Dates = $3.00 each

Add birthdays, anniversaries, and other special days.

Includes all processing costs

Our pricing includes all print and processing work, with no hidden extra charges.

Shipping, if necessary, is additional at current UPS charges for your shipping requirements.
---